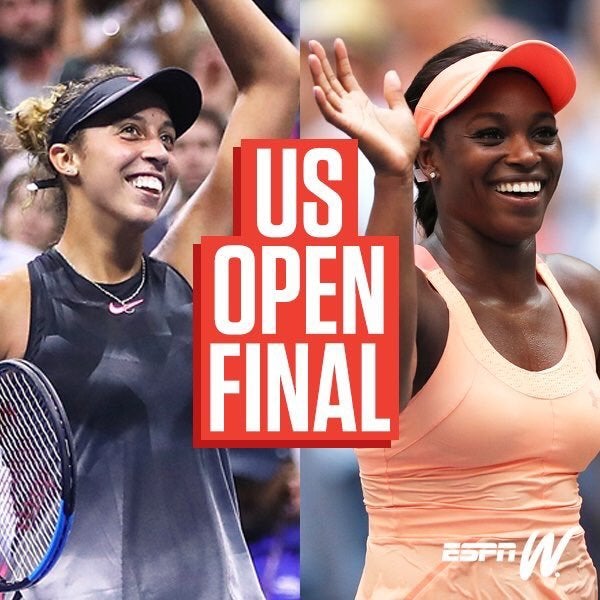 Women's Final Preview || Keys, Stephens headline All-American final || Pre-Match Analysis Presented By Ralph Lauren
Having met only once in their careers, with Stephens winning the second round affair in Miami two years ago, meeting number two will end with one of the friends crowned the 2017 US Open Women's Singles Champion.
"I thought about Althea Gibson and about Zina Garrison and then about Venus and Serena," said Martin Blackman, general manager for player development at the United States Tennis Association.
"There's a ripple effect for sure."
Above/Below: Snapchat pros, Sloane and Madison, "MKandSS," shared stories and photos with Outside The Ball, while in Rio de Janeiro for the Games of the XXXI Olympiad, last year as members of Team USA.
"Everybody always knew they had the ability," said Mary Joe Fernandez, their former Fed Cup captain and Olympic coach. "It was just a question of where and when."
Above: Sloane Stephens (2nd from left end) and Madison Keys (right end) are among other young American tennis players who posed with Michelle Obama (center) and Serena Williams (3rd from left end) at the 2013 U.S. Open. (Frank Franklin II/Associated Press)
Below: "We just talked about game styles and matches. Obviously after a match went off, we would interview a player, this and that," Stephens recently told Sports Illustrated reflecting on her time as a Tennis Channel analysts . "It was more of a fun thing that a serious learning, teaching type of moment. It was more—I'm still around tennis and having fun. I get to hang with Paul (Annacone) and Lindsay (Davenport) and everyone." 
"That's the really impressive thing, that both of them are having their hardest season in terms of injuries, and yet they've been able to do it this fast," Fernandez said. "I didn't expect it come this quickly." Overcoming two operations on her left wrist, Keys said "Being away from the game and just remembering why I love competing and all of that, I think it helped me tremendously." Below: Madison Keys during the 2017 Australian Open.